We get approached all the time with clients who have spent thousands of hours and dollars and still do not have an online store that works for them. There is no denying that the world is shifting towards buying online.
If you have products you need to start selling online or if your online store is not performing the way you want, there are a few things to think about so you actually start using your online store as an asset and not as a deficit.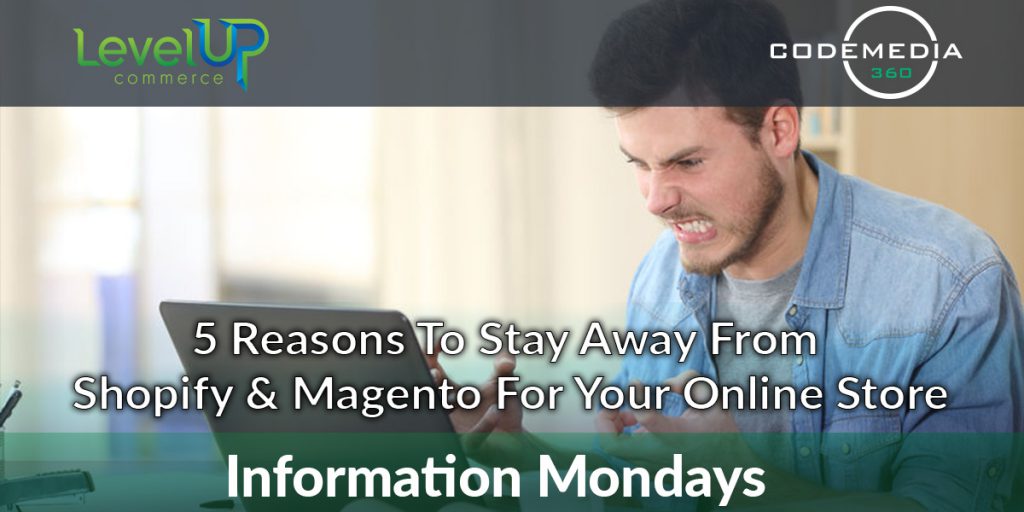 Magento is the hardest platform to use and will take hours of your time to manage your inventory, customers and orders.  If you're paying people full time to run a platform that was supposed to work on its own is this platform truly free?
Magento developers are expensive and hard to find and few are reliable enough the get what you need done in time and for your budget.
Shopify controls most of your files and makes it hard to add customizations that your store truly needs in the code. Meaning you need to pay monthly for all these add-ons and they can add up. A client of ours had to switch from Shopify because all her add-ons came out to $500/m that she needed to pay Shopify for her to use her site.
You do not own anything with Shopify, as soon as you do not pay your monthly fee your site gets deleted and all that work and effort you put into your online store was for a lease, something you did not own.
Shopify charges per transaction and also overcharges for shipping which can cause your customers to shop somewhere else.
Our Solution: 
Anything under 500 Products: WooCommerce is completely free, WordPress developers are easier to find and they have 1000s of free and cheap ( not monthly) add ons that can really help you maximize on your sales.
We recommend having CodeMedia 360 when a store is starting out or doesn't have that much inventory to build a nice Secure WooCommerce site for under 2k and no monthly fees. It has worked for many of our clients and it will work for you.
Anything above 500 Products: At this stage your operation needs to run flawlessly in order to run and grow your business and a custom 50k option is no where near the ball park of what you want to spend,  so what options do you have?
Starting at 5k CodeMedia 360 has a platform just for you. It is an entire business solution wrapped into an e-commerce store built around your brand. Connect all your departments seamlessly and own your one of a kind design in the process. We looked at all of your pain points and reduced inventory management from hours to minutes, We have the most accurate shipping calculations on the market and this all comes with us, a person who will be there every step of the way and help you grow your business.
Contact An E-Commerce Specialist Today For A Completely Free Evaluation Of Your Business
Telephone: 310-775-1883,   E-mail: info@codemedia360.com